The first step is to get an Express REST API application up and running on your local development machine.
In this lecture, we'll learn how to create our first server using Node.js and the Express.js framework. This will allow us to create routes, accept requests, and send back responses.
Navigate to your workspace folder and create a new /twitter directory. This will be the main app folder. Open this folder in VS Code by dragging it to the VS Code icon.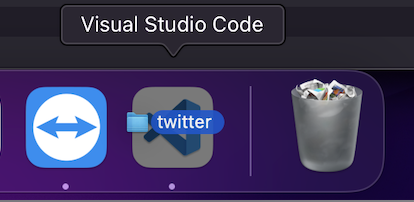 In VS Code, we will use the integrated terminal within this code editor to install some dependencies that we need to start our backend server, but you can also use the terminal provided by your operating system.
The first thing we need to do is create a "package.json" file to provide some metadata about our project.
To do this, run the command "npm init" and fill out the necessary information such as the version, description, entry point etc…
Now that we have a package.json file created, we can install the required NPM package dependencies for our Node server.
To get started, we'll need to add the express, dotenv NPM packages.
Run the command npm i express dotenv to install express and dotenv.
Express is a backend web application framework for building RESTful APIs with Node.js. It is designed for building web applications and APIs.
Dotenv is a module that loads environment variables from a .env file into the process.env object. This allows us to store configuration separately from our code.
Next, run the command npm i -D nodemon to install nodemon. The "-D" flag means that the package will appear in your devDependencies of the package.json file. We only want to use nodemon in the development process. It will monitor for any changes in your source code and automatically restart the server.
npm i express dotenv
npm i -D nodemon

Now that we have our dependencies installed, we need a way to start the application.
Update your package.json file to include scripts that allow you to run the server in either production or development mode. To run the server in development mode, use the command npm run dev. To run the server in production mode, use the command npm start. This will set the NODE_ENV variable in a env file to "development or production" and run the server.js file.

If you need a refresher, here's an explanation for what each script does:
"dev": runs the application when you're in development mode. In this mode, your code will run with special error handling, and other features that make the development process more pleasant. This is the script we'll use to run the application while we're building it.
"start": runs the application in production mode. This is how we'll run the application when it's time to deploy to production.
We don't have a "server.js" file yet, so let's create one that will serve as the entry point to the REST API application.
Also, create an "env" file called "config.env", we put it into a folder named: "config" to store your configuration. In the "env" file, include variables for "NODE_ENV" and "PORT". By default, set the "NODE_ENV" variable to "development", PORT variable to "5000" or "3000". Below is a video of the steps above.